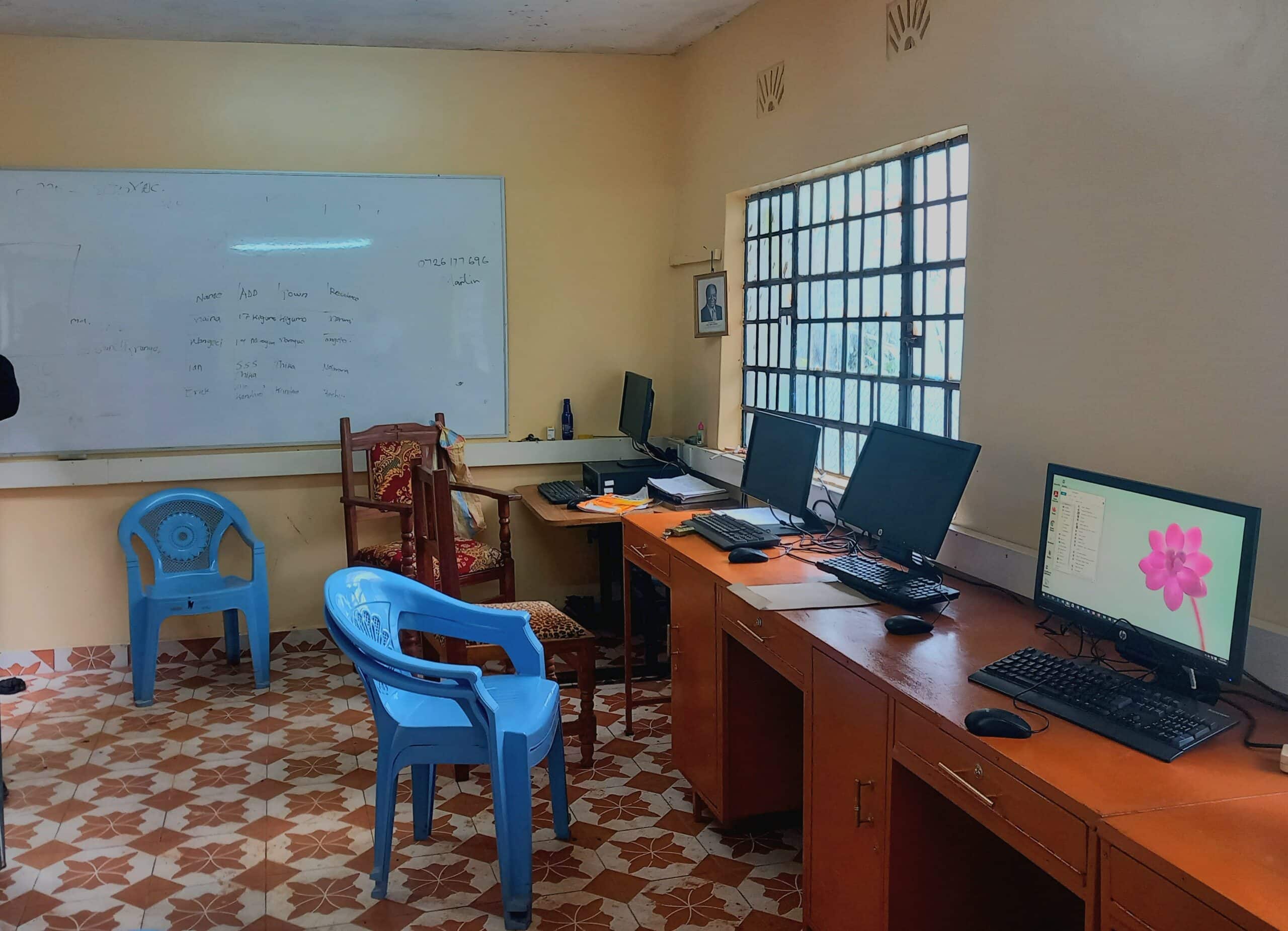 On the chilly morning of July 2nd, 2023, the dedicated team of Youth Future Lab (YFL) embarked on a journey from Nairobi to Kiriangoro, nestled in the hills of Murang'a County. The destination: ACC&S Church Kiriangoro (Africa Christian Church & Schools), where Mr. Wilson Githinji, the church Chairman, had generously provided rooms for the setup of a lab that would bring new possibilities to the local youth.
The ICT Lab
After attending a captivating and spiritually uplifting church service, the team made their way to the computer lab. This lab was established in 2018 and has been a valuable resource ever since. Equipped with five operational computers, the lab accommodates between 5 to 20 students per class, offering instruction in basic computer skills and more.
The curriculum covers a wide range of topics, including computer basics such as starting and using a computer, an introduction to computer hardware (CPU and RAM), and the process of assembling a computer. Students also learn practical skills such as creating folders, troubleshooting, and utilising Microsoft Office applications like Excel, Microsoft Teams, Word, OneDrive, OneNote, Outlook, PowerPoint, and Project.
The importance of mastering Microsoft Office cannot be overstated. Proficiency in these applications not only enhances work efficiency and confidence but also allows individuals to share their knowledge with others. In an era where computers have become ubiquitous, being well-versed in Microsoft Office opens up employment opportunities and ensures effectiveness in the modern workplace. The transition from paper-based operations to digital platforms is inevitable, as data collection and utilisation move online in various sectors, including education, healthcare, business, insurance, and even places of worship.
"I am grateful for the invaluable knowledge I acquired at the lab. It has enabled me to use the laptop I purchased for my son." Jane Njoki, a 2020 Kiiriangoro ICT Lab graduate
The impact
By imparting these vital skills to the youth and mothers in the rural setting of Kiriangoro, the lab aims to empower individuals and ignite a sense of importance within the community. Single mothers, in particular, stand to benefit greatly from this initiative, as they can not only apply these skills in their daily lives but also share their knowledge with their children. This holistic approach fosters a community-driven mindset and encourages the dissemination of vital information to as many people as possible.
Historically, rural communities have often been perceived as disconnected from technology. However, the pervasive use of smartphones among the youth is challenging this outdated notion. By instilling computer skills, the lab is dismantling the barriers between rural areas and technological advancements, empowering individuals to actively participate in the digital age.
To gain insight into the impact of the lab, we interviewed Jane Njoki, who participated in a two-month class in 2020. Jane expressed her gratitude for the invaluable knowledge she acquired, which has enabled her to use the laptop she purchased for her son, who recently joined university. She can now confidently send files to Nairobi personally, utilizing the services of the local cyber cafe in town.
"The lab kept me engaged and prevented idleness during the critical transition period between high school graduation and university enrollment.John Chris a 2022 Kiiriangoro ICT Lab graduate
Another student, John Chris, recently completed his secondary education in 2022. He shared his experience, highlighting how the lab kept him engaged and prevented idleness during the critical transition period between high school graduation and university enrollment. The lab offered an accessible alternative to vocational training centers, which are scarce and often located far away in rural communities. Moreover, these centers tend to be expensive, rendering them inaccessible to many individuals.
The way forward
The Youth Future Lab is committed to maximizing the effectiveness of the computer lab in Kiriangoro and aims to replicate this success in more communities lacking similar opportunities.Their vision is to empower rural communities by bridging the digital divide and equipping individuals with the necessary skills for the digital age. By establishing more computer labs in underserved areas, YFL hopes to provide accessible and affordable learning opportunities that will uplift communities and pave the way for a brighter future.
The impact of the computer lab in Kiriangoro is already evident, as it has empowered individuals like Jane and John, who have experienced firsthand the transformative power of computer literacy. Not only does it enhance their personal and professional lives, but it also safeguards them against negative influences that often arise during periods of transition.
While the lab has been successful in its mission so far, there is one significant obstacle to overcome: the lack of internet connectivity. The team hopes that in the future, this limitation will be addressed, enabling students to harness the vast potential of the internet and further expand their knowledge and capabilities.
The success of the lab in Kiriangoro serves as a testament to the immense potential that lies within rural communities. By investing in technology and education, YFL is nurturing a generation of individuals who can actively contribute to their communities, both socially and economically.
While challenges remain, such as the need for internet connectivity, YFL remains steadfast in its commitment to addressing these issues and expanding the reach of computer education. They understand that the journey towards empowering rural communities is an ongoing one, requiring collaboration, resources, and unwavering dedication.
Partnerships
At the Youth Future Lab, we recognize that our mission to empower rural communities through computer education cannot be achieved without the support of dedicated funders and supporters. We are seeking partners who share our vision and are passionate about bridging the digital divide. With your support, we can address challenges like internet connectivity, expand our reach to more communities, and provide accessible and affordable learning opportunities. Together, we can make a lasting impact on the lives of individuals in underserved areas and create a more inclusive and empowered society. Join us in our mission today.
Information and communication technology (ICT) is a beacon of hope in an increasingly interconnected world, empowering individuals with knowledge and opportunities that transcend physical boundaries." – Nelson Mandela
As YFL continues to make strides in their mission, the impact they have already made in Kiriangoro serves as a beacon of hope for other communities yearning for similar opportunities. Through the power of education and technology, YFL is transforming lives, breaking barriers, and fostering a more inclusive and empowered society.
In conclusion, the journey of the Youth Future Lab team from Nairobi to Kiriangoro in Murang'a County marks a significant milestone in the empowerment of rural communities. By establishing a computer lab and imparting essential computer skills, YFL is equipping individuals with the tools they need to thrive in the digital age. The lab's success in Kiriangoro is a testament to the transformative power of education and technology in unlocking the potential of underserved communities. With a vision to expand their impact, YFL aims to establish more labs in communities without similar opportunities, fostering a future where technology is accessible to all, regardless of their geographical location. By bridging the digital divide, YFL is paving the way for a brighter future, one empowered individual at a time.