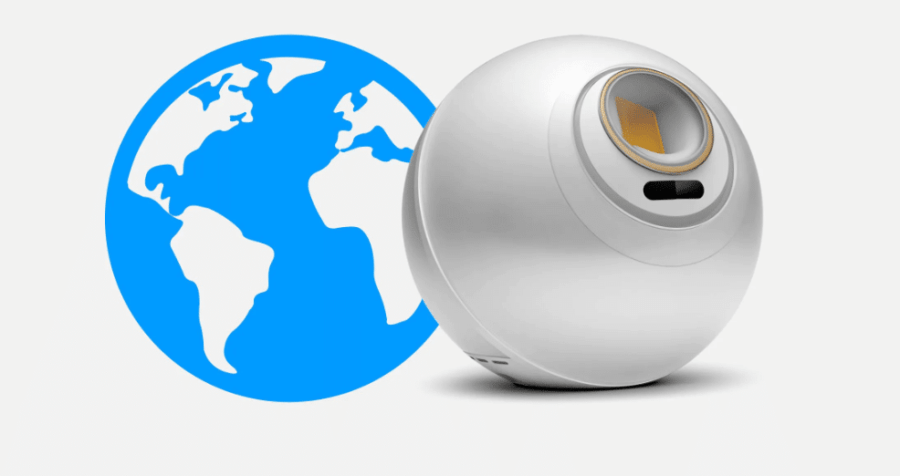 Worldcoin is a cryptocurrency project that aims to create a new "identity and financial network" by giving free digital tokens to anyone who agrees to have their eyeballs scanned. The project, founded by US tech entrepreneur Sam Altman, who is also the CEO of ChatGPT developer OpenAI, launched in July 2023 and has since expanded to several countries, including Kenya.
According to Worldcoin's website, the project's vision is to "establish universal access to the global economy regardless of country or background" and to "give ownership to everyone" by distributing its tokens to every person on the planet. To do so, Worldcoin uses a device called an Orb, which scans a person's iris to verify their unique personhood and create a digital ID that can be used pseudonymously in various applications. Worldcoin claims that no data is stored and that the iris images are deleted after verification.
Worldcoin chose Kenya as the first African country to launch its platform, citing the already booming tech space and the more than four million Kenyans who are already trading in crypto. Since its launch, thousands of Kenyans have been queuing up at registration centres in Nairobi and other cities to get their eyes scanned by the Orb and receive free Worldcoin tokens worth about 7,000 Kenyan shillings ($49) each. Worldcoin says it cannot say how many people have had their eyeballs scanned in Kenya, but local media have reported that more than 350,000 Kenyans had signed up for Worldcoin as of Tuesday this week.
"I'm curious about Worldcoin and how it works. I think it's an innovative idea to create a new identity and financial system that is inclusive and decentralized. I don't mind giving my iris scan if it means I can get some free crypto and participate in the global economy,"
The project has attracted mixed reactions from Kenyans, some of whom see it as an opportunity to make money and access the global digital economy, while others are wary of the potential risks to their privacy and security. In regards to Worldcoin, Kevin Omondi, a software developer, expressed curiosity about its innovative approach in establishing an inclusive and decentralized identity and financial system. He mentioned a willingness to provide his iris scan in exchange for free cryptocurrency and engagement in the global economy. On the contrary, Mary Wanjiku, a civil society activist, voiced skepticism, labeling Worldcoin as a potential scam. She raised concerns about the collection of biometric data for undisclosed purposes, emphasizing a lack of transparency regarding its utilization and sharing practices. Wanjiku further criticized the perceived exploitation of poverty and ignorance by the project.

To use Worldcoin, users need to download the World App, which is a digital wallet that allows them to store, send, receive, and exchange Worldcoin tokens, as well as other cryptocurrencies such as Bitcoin and Ethereum. Users can also withdraw their tokens to Mpesa, a mobile money service widely used in Kenya. Worldcoin says that its app is fully self-custodial, meaning that users have full control over their funds and keys.
However, not everyone is convinced that Worldcoin is safe and secure. The Kenyan government has ordered Worldcoin to stop signing up new users, citing data privacy concerns. The Communications Authority of Kenya and the Office of the Data Protection Commissioner said in a joint statement that they had concerns about how the biometric data was stored, offering money in exchange for data, having so much data in the hands of a private company, and inadequate information on cybersecurity safeguards. The interior ministry said that it had launched an investigation into Worldcoin and called on security services and data protection agencies to establish its authenticity and legality.
Worldcoin has responded by saying that it is planning to implement crowd-control measures and collaborate with the government before resuming its operations. It added that it adheres to Kenyan regulations and that it is committed to providing an inclusive, privacy-preserving, decentralized on-ramp to the global digital economy.
Worldcoin has also faced scrutiny from authorities in other countries where it operates, such as Britain, Germany, France, and India. Privacy experts have warned that sensitive data gathered from scanning a person's iris might get into the wrong hands or be used for malicious purposes. Some critics have also questioned the feasibility and sustainability of Worldcoin's plan to distribute its tokens to every person on the planet and whether it could lead to inflation or devaluation.
"I've been coming here almost three days to line up and register. I want to register because I'm jobless and I'm broke, that's why I'm here

Webster Musa told the BBC
Worldcoin is one of the latest examples of how cryptocurrency projects are trying to reach new markets and users, especially in developing countries where access to the traditional financial system is limited or costly. However, it also raises important questions about the trade-offs between convenience and privacy, and the ethical and legal implications of using biometric data for identity verification and financial inclusion. As Worldcoin continues to grow and expand, it will have to address these challenges and prove that it is not a crypto craze or a privacy nightmare, but a viable and beneficial alternative for the future of money.